Evaluating the Employer Brand of Higher Education Institutions
Overall, universities and colleges have enjoyed a long-standing reputation as some of the most attractive places to work, offering prestige and job stability. However, the Covid pandemic accelerated emerging shifts in worker expectations, technology usage, cultural priorities, and worker demographics.
Higher Education has historically remained relatively unaffected by these market forces. However, economic uncertainty has combined with record levels of unemployment, requiring academic institutions to compete with businesses for high demand talent. And the competitive landscape has changed.
To thrive in the competitive and tight labor market, institutions of higher education must do whatever it takes to stay ahead of the game. This means expanding their talent pipelines, improving hiring strategies, and scaling talent acquisition in ways that benefit the organization in the long term.
The following research has shined a spotlight on the issues academia is facing as a brand:
A recent CUPA-HR study showed that most millennials and Gen Z have poor perceptions of the industry's culture and compensation. 
The study also found that 70% of Black Americans and 60% of LGBTQ+ Americans aren't convinced higher education can offer a diverse, inclusive, and equal opportunity work environment.
Highlights from EDUCAUSE QuickPoll Results: "The Workforce Shakeup" are as follows:

More than a third of respondents (38%) reported that they are "strongly considering" leaving their current institution for a position elsewhere or have already accepted a position elsewhere.
Additionally, among those staying at their current institution, 34% (or 17% of the overall sample) indicated that "retiring soon" was factoring into their decision to a "moderate" or "great" extent.
For those respondents leaving or considering leaving their institution, only 28% of respondents reported a preference for taking a position at another college or university. Half of respondents reported being open to a range of possibilities and having no preference on where they might go next, and another 13% reported a preference for taking a position outside education altogether.
Respondents who reported working at the "manager" level at their institution were more likely to be strongly considering leaving compared with respondents at other levels of the institution. "Manager" respondents were more likely than respondents at other levels to identify factors such as "people/difficult relationships," "negative workplace culture," "lack of job security," "dissatisfaction with my work," and "lack of staffing or resources" as reasons for leaving, perhaps indicating greater overall stress (or a different kind of stress) in those types of managerial positions.
For those who wanted to either stay or leave, their reasoning fell into one of two buckets: institutional reasons focusing on the school or the work itself; or personal reasons such as needs met, convenience, or comfort zone.
Of respondents who wanted to stay, 57% noted their team or other people they interacted with; 54% enjoyed their work; 41% experienced a positive work culture; 35% found the institutional mission important; and 31% said great leadership was a factor. On the personal side, benefits (57%); work/life policies (55%); stability (48%), location (46%); ability to work remote (44%); and length of employment (44%) were important.
Those respondents considering leaving had similar reasons, with opposite experiences. For example, poor leadership (47%), lack of staff or resources (42%), negative culture (25%); unhappy with team or other people (21%); and poor work experience (19%) were motives. Personal goals included higher pay (46%); better jobs elsewhere (42%); desire to branch out (34%); longing to work remote 31%); poor work/life policies (30%); and a need for better benefits (15%).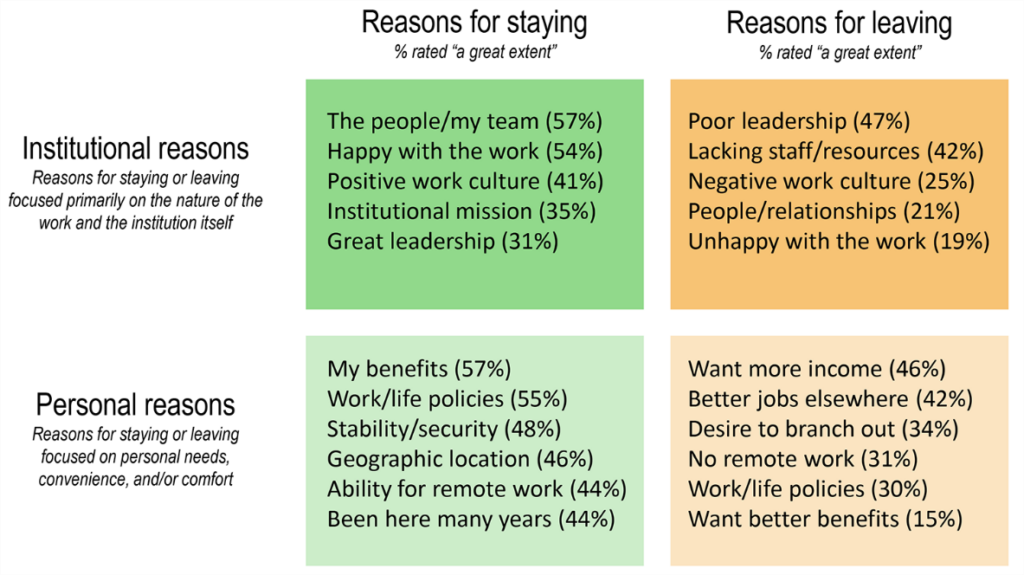 Higher Ed is also vulnerable to losses resulting from corporations and organizations that receive funding from the Infrastructure Act and CHIPs Act. These organizations will see colleges and universities, particularly R&D centers, as great sources of talent.
nextSource insights
Academic institutions can use Direct Sourcing as a hedge against loss from poaching from other colleges and universities as well as other organizations in general. With Direct Sourcing, schools are able to:
Evaluate current and future needs, pre-identify candidates with needed skills, and promote the institution's employer brand.
Analyze changes in skills demands over the past few years to identify future critical digital capabilities. Proactively identify future-critical skills and nontraditional candidate sources.
Customize outreach efforts to diversify the workforce and build strong teams.