Timely Delivery. Provider Accountability. Controlled Cost. Peace of Mind.
Project Services are complex. Multiple service providers working on a single project. On-and offshore workers. Numerous task orders within the scope of a single project. Different payment terms for each task. Many internal stakeholders with varying objectives for a single project. nextSource SOW Management goes beyond traditional MSP SOW solutions that stop at onboarding/offboarding providers and providing usage-level VMS support. At nextSource, we simplify the approach. We act as your sourcing coach, facilitate contracts and ensure compliance, confirm that each provider delivers against commitments, and provide the business intelligence needed to drive your desired results.

Efficiency
Every step in the process is streamlined, automating approvals and payments.

Greater Access to Talent
By identifying suppliers that bring the greatest value to your projects.

Contract Compliance
Through standardized workflows uniform
contracts and continuous oversight of project costs, expenses, and invoicing

Cost Controls
Shrink the gap between the proposed and actual project scope/cost, eliminating scope creep and waste.

Quality
By providing visibility with on-demand
reports/analysis and market updates we continuously introduce program enhancements that drive value.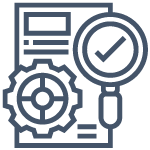 Spend Management
We apply the same level of attention to tail spend – those low-dollar purchases that are not strategically managed and lack the best negotiated prices and terms.
FLEXIBLE SERVICES TO MEET YOUR NEEDS
Whether you are engaging a consulting firm, executing a project or outsourcing professional services, we provide the assistance you need when you need it. Choose a solution that provides the exact level of support you are looking for.

nextSource delivers service provider onboarding and continuous compliance monitoring, expert reporting and analysis, and quarterly optimization reviews.
Closed-loop onboarding and offboarding of service provider personnel

Engagement and milestone management

Compliantly manage SLAs and acceptance criteria

Control invoicing and payments

Quarterly program compliance and optimization review

Administration of VMS system, including Level 1 usage support

Capture spend, performance and compliance data

Provide data and trend analyses, including pricing benchmarks

nextSource will negotiate the contract or facilitate the contract review process, negotiating legal and commercial terms within your specified guidelines.
Determine contract structure requirements

Translate requirements of service provider(s) into Service Level Agreements

Develop contract negotiation process

Verify and incorporate expected commercial terms

Negotiate contracts for final client approval

PLUS all administrative activities

nextSource will take the lead on sourcing. As your sourcing coach, we will provide guidance on the best type of temp worker for each job. We partner with your Procurement team to apply the tools, templates and best practices needed to deliver the best resources for your project.
Lead sourcing effort

Develop RFx documents

Define service provider selection criteria

Develop sourcing plans

Conduct RFx process

Evaluate candidates

Develop down-select list

PLUS all contracting and administration activities
NEED HELP GETTING STARTED?
Take advantage of our complimentary SOW Discovery Workshop. Spend an hour of your time with our SOW experts and we can design an SOW solution that is just right for your organization's needs.