In an unpredictable job market, finding the right role can be a struggle. Today, there are 1.7 openings for every job candidate. With so many opportunities out there, job seekers should consider how each role will enhance their skill sets, making them more marketable. In particular, those most in demand today have a multitude of skill sets that can applied to many different industries and roles. If you are looking for a range of experiences, freelance roles might be your best option. So, what is the right job for you? Let's look at some statistics and find what might be the best fit for your skills and abilities.
According to an SIA article published last month, despite the rise of generative AI, job posts seeking creative writing skills rose by 58% in the second quarter compared to the first quarter to a total of 2,961 jobs. "AI can't replace creativity yet."
Overall, the five fastest-growing freelance skills on the platform in the second quarter compared to the first quarter were:
Creative writing, up 58.5% to 2,961 jobs
User interface design, up 52.5% to 3,075
Twitter marketing, up 41.5% to 2,334
Photography, up 40.2% to 2,945
Microsoft Word, up 38.6% to 4,401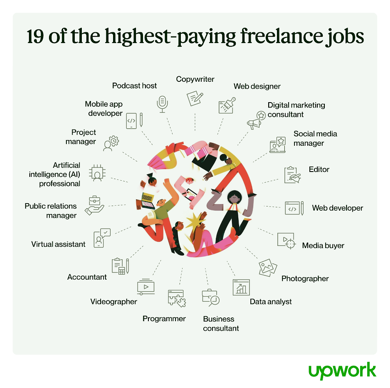 These are the skills in highest demand, but which ones make the most money? Well, you can always negotiate that but Upwork, a leading online talent sourcing company, issued a list last month the 19 addressing the highest-paying freelance jobs in 2023. It includes roles from copywriter, to photographer, to project manager, to accountant. Each requires specialized skills universally sought by companies and institutions. The key is to develop the skills needed to pursue the professional path you want for yourself. There are boot camps, courses, online classes, and other opportunities out there to brush up on your skills and many are free.

nextSource's advice: To optimize your marketability, inventory the skills you currently have, identifying gaps that limit your growth potential today. Explore alternate ways to enhance your skills and experiences. Many find that a combination of courses and work experiences offers the fastest route to qualifying for your ideal job. Temporary engagements offer exposure to different industries, business models, applied skills, and work cultures. With each successful assignment, you will increase your knowledge and credentials. To get started, join a talent community. The nextSource talent community will offer career advice and access to skill development experiences while automatically matching you to new roles that align with your capabilities and interests. By constantly learning new skills you can shape your brighter future.