nextSource Named Key Provider for Ardent Partners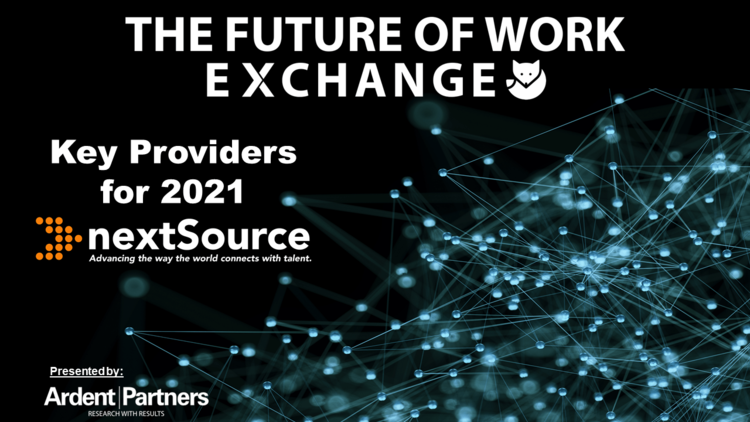 Ardent Partners recently named nextSource as one of their key providers for 2021
The Background:
With non-employee talent workforce comprising 47% of the total global workforce, businesses across the globe are actively finding that they require advanced tools and next-gen solutions to effectively manage a sector of talent that is growing in both size and prominence. The Managed Service Provider (MSP) model has long been the veteran presence in the contingent workforce management (CWM) solutions market, an "old standby" that has long delivered value in terms of cost savings, workforce visibility, and better access to top-tier talent. MSPs have long been a trusted solution in the operational and strategic management of extended talent, as many businesses have outsourced the day-to-day management of contingent labor to these offerings, who, in turn, facilitate talent acquisition, services procurement (and SOW management), staffing supplier optimization, etc
However, as businesses became more advanced in how they structure their workforce, how they leveraged self-service functionality, and how they tapped into alternative talent channels, the MSP model needed to evolve alongside their customers to continue driving that effective level of wide-scoping value across all facets of workforce management. In fact, some MSPs are placing innovation within its core and cascading a progressive mindset into the fabric of its offerings.
Enter nextSource.
Why They Were Selected:
Service-based offerings are often required to do more to stand out from the progressive technology platforms in today's complex solutions marketplace. The MSP model has long relied on traditional services (such as payrolling, staff augmentation, supplier management, etc.) to provide immediate value to the world's biggest CWM programs. However, today's programs are much, much more intricate now than they were even just a few years ago, considering the criticality of direct sourcing, the complexities of diversity, equity, and inclusion (DE&I), and the overall need for CWM leaders to be able to tap into on-demand, top-tier talent.
nextSource has over 20 years of experience as a leading provider of managed services, but it is their unique blend of data science and forward-thinking, intelligence-driven offerings (that sit on top of its end-to-end MSP model) that enables the solution as a key provider for Future of Work-era talent programs.
In Their Own Words:
For more than two decades, the mission of nextSource has remained unchanged: advance the ways companies connect with talent. Today's uncertain business environment is marked by talent scarcity in the midst of high unemployment, shifting demographics, increased talent acquisition and compensation costs, and technology that enhances and eliminates jobs at all skills levels. We navigate these workforce challenges to help our clients find, manage, and keep talent.
Traditional approaches to contingent workforce management produce poor results in this new competitive environment. As a vendor-neutral provider of solutions, we partner with the industry's best staffing agencies, providing the support needed for them to deliver the talent needed by our clients. We augment their capabilities through the establishment of nextSourcing™ talent communities that draw from sources not reached through traditional sourcing channels to increase engagement of women and minorities. Working with our clients, we create a worker experience that is based on pay equity, revalued work, caregiving, and opportunities for challenging, career-building assignments.
Every Managed Services Provider, Employer of Record, and Agency of Record program applies our Entry Point Methodology, giving clients choice regarding their preferred level of service. And, annual Program Agility Assessments ensure that every program continuous innovates and evolves.
The Outlook:
It's no secret that the world of work and talent has been permanently transformed. Hiring managers must leverage nuanced tools and strategies to find the best-fit, best-aligned talent, while both procurement and HR executives are forced to reimagine how they manage their total workforce in the face of foundational change. The Future of Work Exchange Report for 2021 research study found that Best-in-Class organizations are 66% more likely to leverage MSPs than all other businesses, a statistic that reinforces the continue value these models bring to the world of agile workforce management.
nextSource offers both traditional and forward-thinking solutions for its clients, with its Program Agility Assessments serving as an incredible differentiator in the application of data science and true workforce intelligence to drive educated and transformative recommendations for long-term contingent workforce management success. With its end-to-end approach balanced with dynamic offerings, nextSource is well-positioned to continue delivering progressive value in the evolving world of work and talent.