Why Should the Implementation of an EOR Program Coincide with Your Fiscal Year?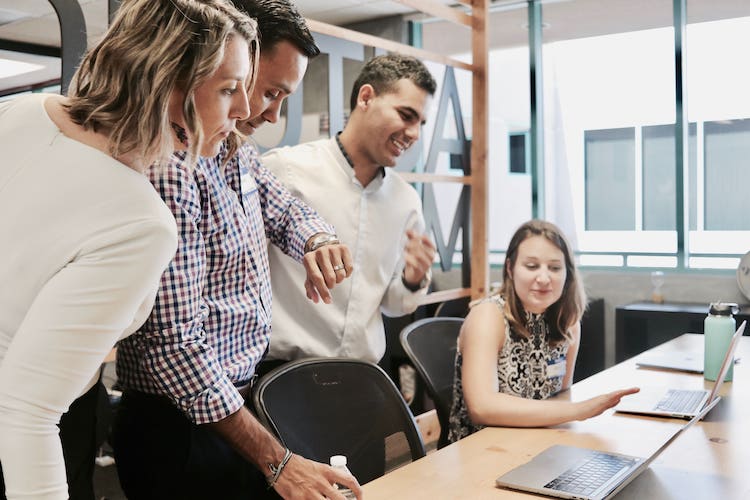 As we head toward Q4, there's no better time than now to start preparing for the implementation of an EOR program. If you're not familiar with the terminology, when it comes to human resources, "EOR" stands for Employer of Record, which is a fancy way of saying that nextSource acts as the intermediary, payroll provider and employer of your temporary workforce.
As your EOR provider, we incur the administrative and financial burdens associated with hiring, onboarding, time tracking, payrolling, tax filings, benefits administration, local compliance, contract termination, off-boarding, and other employment-related lifecycle matters.
This allows you to hire the best individuals (or teams) no matter where they are located—without crossing legal boundaries—while we take care of the complexities and support your team every step of the way.
Benefits of an EOR
Before we get to the "when" of an EOR, let's dig in to the "why" you should consider an EOR in the first place:
Decreased liabilities and risk. In essence, an EOR allows an organization to legally and efficiently engage talent, even in a new state (or country), without having to set up as a local entity itself or risk violating local employment laws. You stay protected from co-employment, worker misclassification, and worker's compensation risk. Additionally, nextSource handles keeping up with the ever-changing city, state, and federal labor and tax laws so you don't have to.
Reduced administrative duties. Let's face it … today's HR organizations' bandwidth is often already up to capacity, so taking on administrative duties for your workforce and all that it entails could lead to costly mistakes. Additionally, payroll transactions are automated, and you'll receive one streamlined, consolidated invoice.
Condensed cycle times. Because we're focused on your organization, we can quickly and efficiently provide HR support to get the worker hired and through the onboarding process.
Increased flexibility. Mid-sized companies may not have the flexibility to entertain workers that are outside the state they're registered in. By partnering with an EOR service, you'll experience greater flexibility in your ability to hire candidates across the country.
Decreased start times. Today's workers are looking at nimble companies that can hire and onboard them fast. nextSource can get your candidates through the pre-employment process and onboard them quickly so you don't have to worry about it.
Lowered employee overhead costs. By using an EOR service, you're able to focus on the core of your business, while eliminating the stress of tax reporting, payroll, benefits, and more. All these essential functions can get quite confusing as well as extremely costly if not done correctly. By hiring an outside company to handle this, it allows you to focus on other critical tasks and operational functions. Not only are you gaining the assurance of avoiding costly fines: You'll also experience other cost-saving options that EORs can provide. Furthermore, you're able to reduce the hidden costs in hiring and terminating an employee, compensation, benefit costs, while simplifying processes and minimizing payroll processing workload.
Improved insights with reporting and analytics. You can keep tabs on your workforce, your diversity program, and more with detailed insights with our reporting and analytics. Want to know how many workers were onboarded in a certain week? What percent of workers are women? Whether you are paying market-based rates? It's now right at your fingertips.
When Should You Start the Implementation of an EOR Program?
To be clear, you can start an EOR program at any time. Many organizations' fiscal year begins on January 1, so it may be an opportune time to implement your EOR program. If your company has a fiscal year that doesn't align with the calendar year, you may want to consider starting in Q1 anyways because there's no time like the present.
Here are a few reasons to align your EOR start date with your fiscal year:
A fresh start. Enjoy beginning the year in alignment with your fiscal year.
Open budgets. Typically budgets are most open with a clean slate.
Engagements ending/starting. At year-end, many engagements are coming to a close—while at the beginning of the year, engagements are starting. This is an opportune time to evaluate the types and volumes of workers needed for new projects.
Avoid carry-overs. Some regulations ensure that worker tax implications and benefits must be measured annually across different employers. Prepare during the previous quarter—this seems simple enough … you can begin preparing for the fiscal year by prepping during the previous quarter by tackling administrative duties. Look ahead to see where there may be gaps, large numbers of workers needed for seasonal or other roles, and more.
Identify candidates for future needs. What types of candidates and roles do you need to fill? What skillsets are required? Do candidates need specific certificates, etc.?
Partner with the best.
EOR services can give your company an alternative payroll and human resources solution that's constantly providing cost-savings, eliminating the hassle of liabilities associated with payroll, and affording the peace of mind that your business is secure and compliant. As you begin thinking about the implementation of an EOR program for your business, assess whether you have the right partner to help you through the process.
Get in Touch with nextSource
nextSource has a strong track record of providing EOR and payrolling services to companies like yours to find, hire, and manage top-of-the-line talent around the country with a people-first approach.If this sounds interesting, talk with our team today about how we can partner with you to help your business thrive with the best people in our country's highly diverse talent pool.