This is Not a Drill: Veterans Bridge the Skills Gap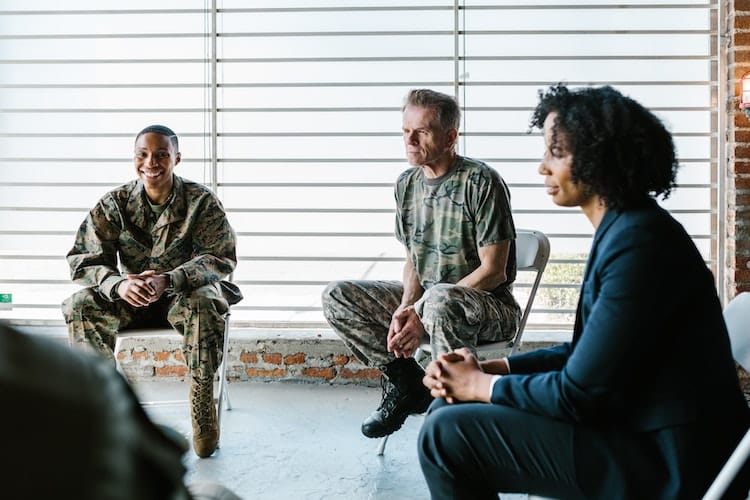 Americans have set aside November 11 to celebrate and honor men and women who previously served in the United States armed forces in wartime or peacetime. Yet focusing on one day a year is not enough to help these individuals who have sacrificed so much. There are concrete ways we can support our nation's veterans.
One of the ways we can honor these individuals is to include them as an absolute must-have in your Diversity, Equity, and Inclusion efforts by actively recruiting them. Some companies focus on "x years" of industry experience as the main criteria for hiring, leaving entire segments of diverse talent in the dust, including veterans. As a result, rates of unemployment or underemployment among veterans continue to remain challenging.
The state of veteran employment
While millions join the military, not all become lifers. According to the U.S. Department of Veteran Affairs, there are more than 19 million veterans in this country. Every year approximately 250,000 service members transition into civilian life. Those veterans returning home need jobs.
However, they are often finding that the segway from active duty to finding employment is challenging. According to a panel of veterans at a SHRM Diversity & Inclusion event, 90% of veterans admitted to facing challenges when seeking employment.
How can companies help? It's imperative to treat veterans as part of the organization's Diversity, Equity, and Inclusion (DEI) program by looking at their experience, qualifications, and transferrable skills, not solely if they have experience in your industry. "Veterans have experience working in a diverse environment and realize the importance and value this brings to a company's success," Ronnie Flippo, Director, Business Service at nextSource and former Petty Officer 2nd Class for the United States Navy emphasizes.
Transferrable skills to bridge the gap
These days you'd think it'd be a cinch for veterans to find employment since they have a majority of the most sought-after hard and soft skills. But that's not necessarily the case. Sometimes it is just a matter of knowing how military training can convert to civilian jobs. According to research conducted by ADP, nearly 60% of veterans know how their skills would transfer to a civilian position.
Here are some examples of transferrable skills:
Leadership – Many service members have extensive experience leading units, making informed and strategic decisions literally under fire. These veterans are qualified to assume management positions.
Teamwork – Working as part of a tightly-knit team is mandatory. Veterans are often drawn to collaborate within teams. They work cooperatively to accomplish objectives, perfect for a cross-functional team lead.
Discipline – You won't have to tell a service member twice. They lived in a world where focus and following rules was non-negotiable. They'll adhere to or draft standard operating procedures.
Dedication – In a world of quiet quitting and ever-changing work ethics, you can rely on a veteran. This is someone who offered to lay down their life for our country. They will execute actions to achieve critical goals.
Solving complex problems, adaptability to a changing work landscape, and working with cutting-edge technology in cross-functional environments are also incredibly important. These and more are all hallmarks of our veteran population. We have certainly witnessed these skills in our veterans at nextSource. "The military instills confidence, structure, discipline, teamwork, attention to detail, and a never-quit attitude," explains Ronnie. "All of these are helpful in my role at nextSource, especially working remotely."
In addition, many veterans also have experience working internationally, which is playing an increasingly important role on the global stage. It has never been more important to know the language and culture of another country (or several countries) than in today's global economy.
Yet organizations that may desire people with these specific skills do not know how to connect with veterans. Similarly, veterans may not know how to find companies that would benefit from their expertise.
Best practices for hiring veterans
This veteran's day, let us inspire you to ramp up your DEI initiatives to include more past service members. Having a strong military campaign will help drive your organization past your competitors with our nation's best talent.
Now that it's clear that hiring veterans will benefit your organization, you need a strategic plan to tap into the diverse talent and skills that service members have to offer. This is where a solution such as nextSourcingTM – our proprietary direct sourcing solution can help.
nextSourcingTM is a client-branded direct sourcing Talent Community used to fill positions for high-volume, seasonal, or peak business needs. It enhances your connection with great talent that can then quickly be engaged and re-engaged for specific temporary or project-based assignments as well as being a potential source for FTE Direct Hire placements.
Members of a nextSourcing Talent Community build strong connections with our clients resulting in increased loyalty. Once the Community is established, we nurture and communicate with members throughout the entire recruiting process – when joining, while on assignment, and post-assignment.
Members are encouraged to nominate friends and colleagues (think: other veterans) to increase the Community – and they may earn referral fees while doing so. nextSource then serves as the Employer of Record or Agent of Record during the assignment period for an easy transition.
If you are interested in creating your own Talent Community so veterans and others can join and learn about great opportunities within your organization or if you are a veteran who is looking for your next significant role, we're here to help through nextSourcing, our direct sourcing approach. 
We commend other organizations that have realized the benefits of hiring veterans. And to our veterans everywhere, we humbly and graciously thank you for your service, protection, and sacrifice.