INFOGRAPHIC: Five Higher Education Workforce Trends to Watch in 2021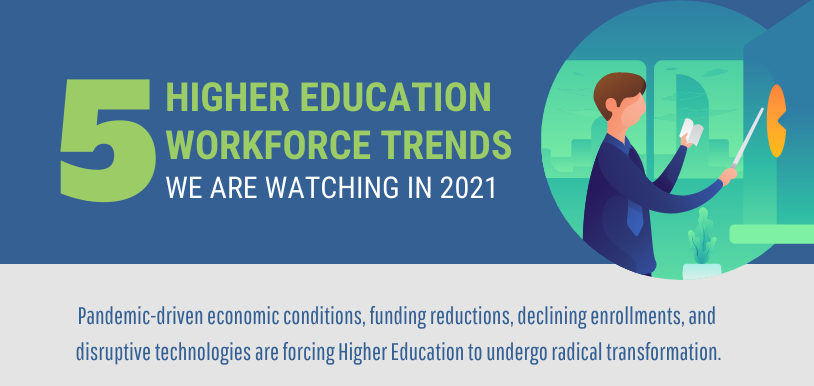 Higher education as an industry has been radically transformed in a number of ways as a result of the Coronavirus pandemic. Shifting economic conditions, funding reductions, dramatic drop-offs in enrollment and the rise of disruptive technologies – all occurring at the same time – have changed many of the orthodoxies formerly applied to higher education workforce management. As indicated in our infographic, here are five of the most broadly felt changes and the resulting implications.
The Rise of Adjunct Faculty (and decline of Tenure Tracks)
We're not saying tenure tracks are a thing of the past. However, during the pandemic as enrollments fell to a trickle, many higher ed organizations leaned more heavily on adjunct faculty to ease the cost burden of benefits paid to their tenured counterparts. Now that economies are reopening, there may be a decline in the use of adjuncts, but in sum, the practice still enjoys greater usage than before COVID. What this means is that universities must be prepared to continue to engage adjuncts at a higher rate. As such, they'll need to improve processes for managing the screening, on-boarding and payment of geographically dispersed adjunct instructors across a number of short-term engagements.
The Outsourcing of Campus Service Workers to Temp Labor
Again, to keep costs under control during the lean times of the pandemic, many campuses increased the outsourcing of service workers to temp labor resources. While many full-time jobs will return in cafeterias, buildings/grounds, and other service areas, many will remain outsourced. This means workforce managers must devote dedicated time to contracting, engaging and managing temp workers – a different skill set than it is with respect to full time workers.
The Exponential Adoption and Growth of Virtual Learning
The whole world became experts at teleconferencing technology during the pandemic. From workplaces to social gatherings, to studies, everyone had to embrace virtual meetings. As a result, many will continue to enjoy the untethered benefits of online study, even after the classrooms are fully opened again. For higher education organizations, this means greatly increased demand for IT and computer professionals to help deploy, manage and maintain the technical infrastructure supporting virtual learning. They'll have to compete with other higher ed organizations as well as all corporations for software developers, online security experts and IT pros.
The Imperative for More Inclusive Campus Culture
One of the unexpected consequences of the pandemic has been the revelation of systemic iniquities in all facets of modern society – especially in the US. From the BLM movement to the MeToo movement and others, American institutions are awakening to the fact that more must be done to ensure equality under the law and in business. For higher education operations, this means an increased emphasis on race relations and equity policy, driving more robust workforce diversity sourcing and community connection programs.
Purchasing Priorities Have Changed for Students
Before the pandemic, curricula were stable across all colleges and universities. As such, much of their marketing emphasized campus amenities as a point of differentiation. Today however, in the new normal, there has been a wholesale shift in the career paths projected to be in the highest demand. As a result, schools must re-calibrate their curricula to develop skills most valued by employers with alternatives to the traditional 4-year degree.
All these pandemic-driven trends require a fresh perspective on workforce management in the Higher Education industry and no one knows more about it than nextSource.  Want to refresh your processes and practices? Talk to us today.
Visit our website to learn more about our work in the Higher Ed industry.
Let us know if you'd like to automatically receive insights into the challenges of talent acquisition and management.