Employee Recognition – The Gift That Keeps on Giving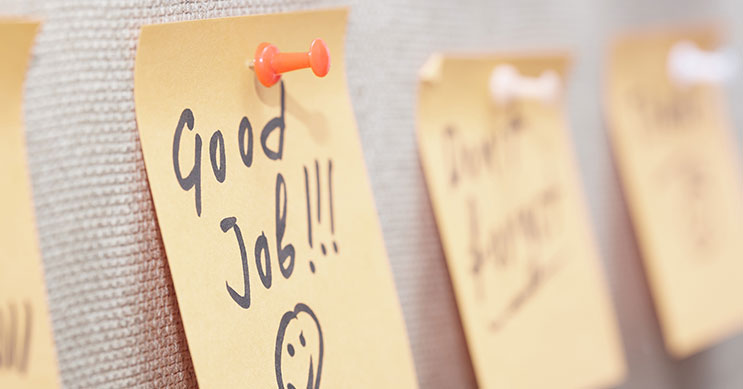 Recognition, in all of its forms, is critical to creating a strong corporate culture and sense of team chemistry within an organization. There are many different approaches to recognition – from formal corporation-wide programs – to individual conversations between a manager and employee. To follow are study results that reveal the important role that recognition plays in corporate culture along with some strategies to get you started.
Gallup's recently released 2017 study on employee engagement found that in 2016, 51% of the U.S. workforce is not engaged at work – meaning they are indifferent and neither like nor dislike their job.
Such employees may need some inspiration to push them to be more engaged. When more of your workforce is engaged, your employees are more present and productive, and profit has been shown to increase as a result.
Corporate recognition programs provide a great opportunity to reduce the 'small fish, big pond' mentality that sometimes exists either due to an organization's ample size or sprawling geography. Such corporate recognition programs begin with the expression of a common, shared understanding of purpose and corporate objectives. Identifying and clearly communicating corporate objectives allows managers and employees to prioritize and focus on those tasks that enhance organizational success. Something as simple as a "department of the month" program within a large organization can foster an environment wherein employees are encouraged to work collaboratively to achieve goals.
Under the auspices of such a contest or program, management can develop open lines of communication between themselves and the rank and file. These channels are fruitful for identifying concerns or issues that may be preventing forward motion and achievement of business goals. Employee recognition programs can be leveraged to encourage discussions and pivot to teachable moments regarding best practices, process improvements and other affirmative activity.
Communication of a formalized program is critical. After all, employees must be aware of the recognition of their coworkers in order to feel compelled to pursue recognition of themselves. Consider employee driven award nominations or recognition with selection by executive leadership. This engages the employee base and avoids the perception of any favoritism. These programs are most successful when they are perceived as legitimate and honest by the staff.
Consistency of delivery is also important. Whether you elect to deliver recognition and incentives monthly, quarterly, bi-annually or annually, make certain to be very deliberate and conspicuous about it. Publicly recognize those who submitted/nominated candidates as well as nominees and winners. This is best done across numerous internal channels such as group (video/web) announcements, notifications on the company intranet, and via personal letters to all the nominators, nominees and winners.
Management should also require follow-up from stakeholders across the chain of command.  "Congratulations" from the corner office are nice, but those from direct managers are often weightier because the recipient works daily under his/her direct supervisor and there is often a more personal dynamic between the direct report and the manager.
Make sure to make it personal. Showing personal interest in employees is one of the best ways to demonstrate you know what motivates an employee to achieve. For example, a 2015 study with over 900 respondents representing companies with more than 1,000 employees revealed that a higher percentage of employees feel satisfied when praise was last recognized within one month.
Get creative with the prizes, awards, or incentives for an employee recognition program. There are many ways to say thank you better than cash (although no one is ever disappointed with more money). A hand-written thank you note is always received with a greater sense of accomplishment than a typewritten letter which can come across as sterile. You might also consider special treatment for a day such as the opportunity to take lunch with executive, a "desk swap" (permission to sit in the boss's desk for the day), or the tried-and-true bell ringing (where a bell is kept in the office and rung to announce an employee's good work). Other interesting ideas include paying for the honored employee to receive dedicated training session(s) in a new skill which helps them learn a new skill and grow professionally.
Bottom line, recognize the importance of acknowledging your employees personally. Show them gratitude and it will be reflected in their attitude. For more insights on employee retention and lowering churn rate, check out this nextSource blog highlighting the importance of keeping good talent.