What Is TalentCalling, the Solution for Higher Ed Institutions?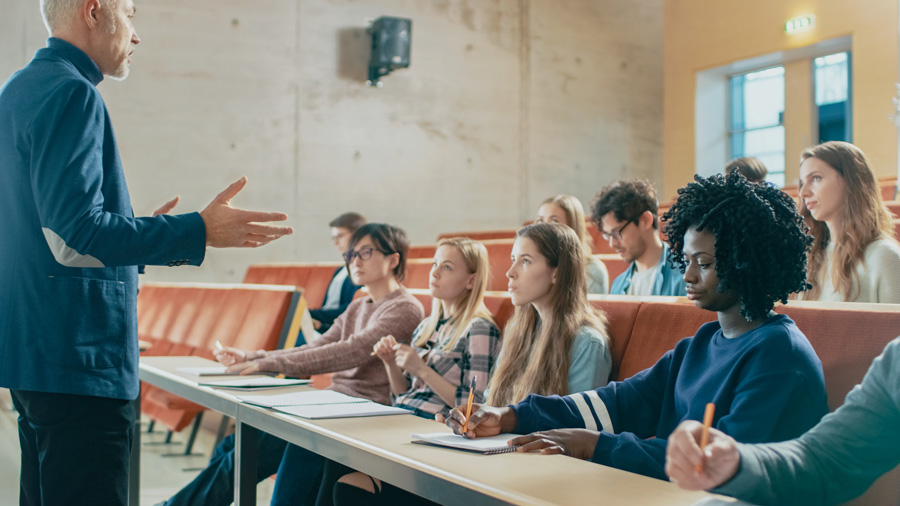 Employers in every sector, including higher education, should get innovative in how they hire to secure quality talent. According to the Society for Human Resource Management (SHRM), 62% of employers and 86% of recruiters believe the job market is candidate-driven. Advertising positions and cherry-picking applicants no longer do the trick for higher ed institutions. While colleges and universities have research opportunities and a prestigious legacy, the modern workforce is more concerned about work-life balance and purposeful roles.
Workforce Challenges in Higher Ed Institutions
According to 62% of the college heads surveyed by the Chronicle of Higher Education, filling staff and administrative roles in January, February, and March of 2023 was harder than in 2022.
The following factors can explain this scenario.
Budget Constraints
Higher ed institutions, both public and private, rely on funding to support their operations. In the event of allocation reductions, colleges and universities lose talent to sectors with higher recruitment budgets.
Enrollment fluctuations also strain staffing resources. Fewer admissions translate to less earnings from tuition fees, limiting an institution's expenditure on recruitment. On the other hand, the private sector is based on a profit motive—companies are willing to spend whatever it takes to get the best employees and multiply their revenue.
Stringent Requirements
Academic roles demand more skills and specializations than other careers. And while stringent requirements give you the most qualified professionals, they also limit your candidate pool. For example, it's harder to fill a role that requires advanced degrees, specific research fields, and a higher level of teaching experience than it is a role that only requires a bachelor's degree.
Even if they meet the requirements, candidates still have to deal with rigorous onboarding. It's not uncommon for teaching staff to pass through multiple interviews, presentations, and lecture demonstrations to gauge their abilities.
Traditional Work Structure
Unlike other sectors, higher ed institutions have yet to embrace hybrid work fully. Adopting this model would mean changing the institution's workflow and organizational dynamics. That's not to mention the necessary technological upgrades for better collaboration between remote and on-site workers.
Besides being costly, such changes would face faculty resistance from institutions with a rigid setup despite the talent diversity that comes with hybrid work. Colleges and universities can access qualified professionals without worrying about geographical limitations. Hybrid work also increases your retention rates by improving work-life balance. If someone on your team is planning to relocate, you can suggest a remote work arrangement instead of letting them go.
Hiring Multiple Groups
Besides full-time teaching staff, an institution comprises various other cohorts including contingent faculties, casual contractors, student support, administrative, and professional development staff. And because of their unique needs, it can be challenging to support all these groups in a separate but seamless process.
The first challenge with multiple cohorts is creating a multigenerational workforce. While younger professionals are open to flexible work arrangements, older employees are more concerned about job security and hierarchical structures. Another difference is in the preferred mode of engagement. While older demographics respond well to newspapers and other traditional modes of advertising, younger demographics are more likely to see job adverts on digital channels such as social media and job boards.
Similarly, older cohorts value professionalism, explaining their preference for formal and detailed messages. On the other hand, younger demographics respond better to concise communication.
What Is TalentCaling?
You can overcome your higher ed staffing challenges with TalentCalling, a collaborative talent community from nextSource based on a centralized online platform. The idea is to harness the collective influence of academic institutions to create a diverse talent pool. By doing so, colleges and universities can fill high-volume positions on request and allow the redeployment of such talent upon a project's completion.
Moreover, every participating institution gets a program specialist to coordinate their TalentCalling efforts. Besides finding new community members, the program specialist matches open roles with the best fit and promotes meaningful interactions with participating institutions. Our TalentCalling community incorporates the following professionals:
Exam proctors
Student success specialists
Teaching assistants
Administrative assistants
General managers
Admissions personnel
Application readers
We also bring together non-academic professionals such as project managers, software developers, and IT implementation managers. You'll be pleased to learn about our TalentCalling center in Washington DC's metro area which focuses on time and cost savings as well as promoting innovation and peer sharing among institutions.
How TalentCalling Solves Your Staffing Challenges
TalentCalling offers the following benefits to the higher education sector:
Increasing labor access through custom talent communities
Combining talent sources across different geographical areas to build efficient recruitment programs
Slashing talent costs with effective workforce planning
Ensuring diversity and inclusion by including underrepresented groups in your talent community
Promoting agile workforce planning for better talent sourcing and retention
Conducting continuous evaluations to ensure the success of your talent program
How TalentCalling Compares to Other Staffing Models
nextSource isn't new to innovative talent strategies. We've been offering tailor-made staffing solutions to our clients for more than two decades, whether you're looking for full-time, part-time, or project employees. nextSource has been supporting recruitment efforts through direct sourcing, a program that builds your talent pool without involving third parties. This way, you can get freelancers, temporary workers, and contingents directly from the labor market according to your needs and timelines.
We even take it a step further with nextSourcing which builds a private talent community based on your location, desired skill sets, and fundamental company initiatives like diversity and inclusion. Note that talent communities aren't just your regular talent pools. While talent communities are built upon your brand, pools are merely candidate databases. Moreover, nextSourcing is more concerned with fostering long-lasting relationships for increased loyalty.
Upon establishing the talent community, we work closely with candidates throughout the recruitment process, from selection until after the assignment. We also utilize market trends, career development tools, and brand messaging to boost engagement. Another selling point of this program is referrals. nextSourcing encourages members to invite their colleagues and friends to expand the community.
Should You Consider TalentCalling?
TalentCalling recognizes the uniqueness of the higher education recruitment landscape and the need to distinguish your brand from competitors. Our job at nextSource is to provide proactive talent solutions in an ever-changing industry. Do you feel TalentCalling is right for you? Contact us to get started with your talent community.