How the Infrastructure Investment and Jobs Act (IIJA) Will Impact Hiring for Your Higher Ed Institution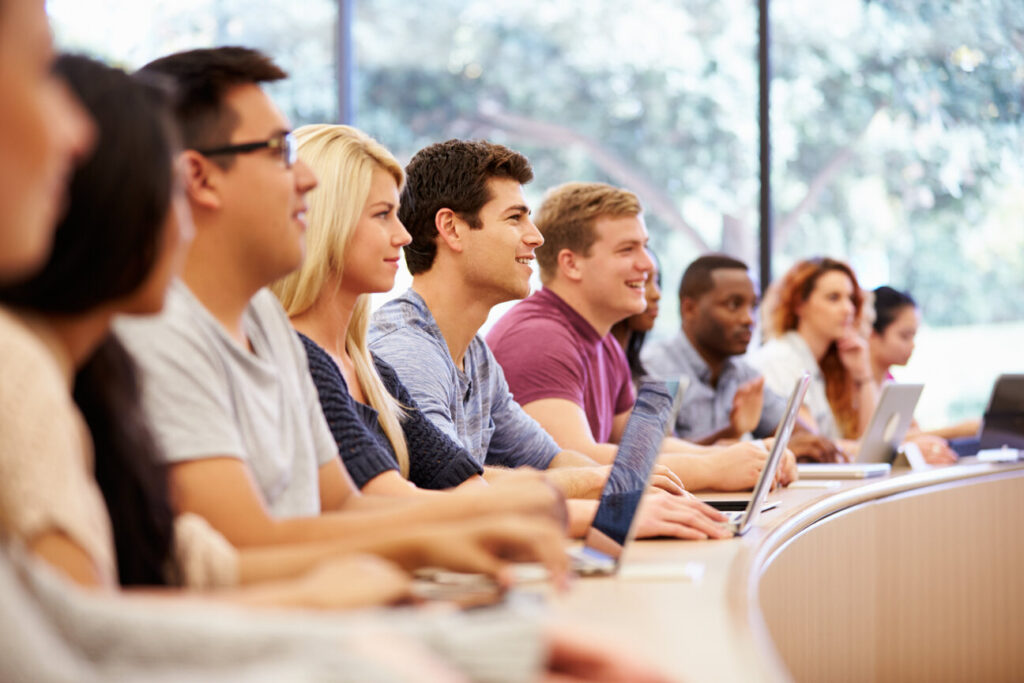 In 2021, President Biden unveiled the Infrastructure Investment and Jobs Act (IIJA), a bipartisan legislation plan that allocates billions of dollars to infrastructural development while also addressing climate change, broadband coverage, labor rights, and levels the playing field for Black and minority institutions. Infrastructural efficiency is important; the IIJA recognizes the role of higher education institutions in realizing this goal.
How Does the IIJA Impact Higher Education? 
The research and development (R&D) provided by schools will allow them to access direct grant opportunities for universities and research centers as well as an inroad for opportunities to partner with other grant recipients to conduct research and pilot projects to create far-reaching efforts across the United States.
This law allocates a whopping $550 billion boost for broadband, energy, infrastructure, and surface transportation over eight years. While organizations across the United States will benefit from these infrastructural upgrades, part of the IIJA budget relates to higher education, either directly or indirectly. These funds are set aside as grants for eligible institutions.  
For instance, the government has allocated $47 billion to climate change resilience. And since higher education institutions aren't exempt from floods, storms, and fires, these funds will go a long way in protecting university facilities. This is in addition to $65 billion for electric grid repair and maintenance. By generating its own energy, an institution can sell excess power to the grid and uphold environmental sustainability. Here are some other ways the IIJA benefits higher education: 
Training Center Construction  
The Infrastructure Investment and Jobs Act provides construction grants to institutions that wish to train engineers and technicians on new building technologies. For example, engineers will learn how to apply algorithms and other smart building technologies to identify a structure's anomalies. The new training and assessment facilities will benefit construction professionals interested in advancing their careers, including those working in the institution's housing center.   
Resilience and Adaptation Research 
The IIJA allows the U.S. Department of Transportation (DOT) to establish 10 centers of excellence that will collaborate with the National Center of Excellence for Resilience and Adaptation. The goal of the centers is to perform research and development to improve the resilience of U.S. surface transportation infrastructure to natural disasters and extreme weather.
Higher education institutions and consortiums of nonprofits led by an institute of higher education are eligible to become designated centers. The law authorizes $500M over five years to fund grants, with each center receiving a minimum of $5M each year (subject to a 50% cost share). A school could house one of the centers of excellence, and even pilot new concepts in resilient materials and use the designs on its own campuses. These centers will research and develop strategies to increase the resilience of the U.S.'s surface transportation systems to extreme weather and natural disasters. Institutions of higher learning can serve as centers of excellence, making them eligible for grants.    
Broadband Funding
Broadband internet connects people worldwide, providing Americans with equal access to healthcare and learning opportunities. According to the bipartisan infrastructure legislation, the government will allocate $65 billion to new broadband ventures, including state-level grants for broadband deployment and middle-mile infrastructure through the Broadband Equity, Access and Development (BEAD) Program. Community anchor institutions including schools, libraries, healthcare facilities, and higher education institutions that lack at least gigabit service are eligible.
Higher education institutions can apply for these grants, supporting the government's efforts to accelerate broadband adoption while simultaneously reducing the cost of internet connectivity. This nationwide expansion will also increase broadband access for community colleges in unserved and underserved areas.  
Infrastructural Projects 
The IIJA has invested $12 billion in community colleges to address technological and physical infrastructure issues. These funds will go into growing local economies, safeguarding students and faculty, enhancing energy efficiency, and managing education deserts for rural communities.
The National Science Foundation will also receive $50 billion to advance existing government projects, focusing on fields such as advanced computing, semiconductors, biotechnology, advanced communication technologies, and advanced energy technology. Historically Black Colleges and Universities (HBCUs) and similar Minority-Serving Institutions (MSIs)will also have a slice of the pie under this proposal. The plan calls for a $10 billion investment in R&D and $15 billion to create 200 research incubators at those institutions, with the stipulation that those investments could help eliminate racial and gender inequities in R&D and STEM. Of the $40 billion earmarked to improve research infrastructure and laboratories, 50% is set aside specifically for HBCUs and other MSIs. 
Plant-Based Consumer Products and Construction 
The U.S. Department of Agriculture will collaborate with a university-affiliated research facility on a bioproduct pilot project to investigate sustainable agriculture products. This research aims to reveal the advantages of using agricultural commodities in consumer and construction products, including saving on waste management and reducing greenhouse gas emissions.     
How Can a Talent Community Support IIJA Labor Needs? 
The new legislation is billed to propel economic growth by increasing demand for goods, services, and labor in multiple industries. And with higher education institutions at the center of the Infrastructure Investment and Jobs Act, colleges and universities will also need more workers to support emerging construction and R&D projects.
However, hiring for higher ed can be challenging, considering the lucrative opportunities available in the private sector. The world of academia may also appear particularly demanding, pushing candidates into less rigorous jobs. These and other factors can leave higher ed institutions open to workerpoaching. That's why many institutions are moving on from traditional recruitment methods to keep pace with modern workforce needs. One such measure is direct sourcing. Direct sourcing goes beyond traditional sourcing to create a talent community of loyal, engaged workers, like a members-only club. These are temporary workers who are essential to achieve the high demand in this dynamically changing workforce while bringing needed skills, experience, and flexibility.  
Hiring for Higher Ed with nextSource TalentCallingTM 
At nextSource, we do more than just help find employees — nextSource builds a talent community with the right values and skill sets for your learning institution. Our specialized Higher Education Group is entrenched in academia. This means we know exactly what to look for in a candidate, where to find them, and how to manage the workers.
After identifying suitable candidates, we communicate with talent by sharing networking opportunities, offering career guidance, and checking in regularly until the next opportunity arises. nextSource also champions diversity, equity, inclusion, and belonging to ensure fairness during recruitment. 
And now, nextSource has taken direct sourcing to another level.
We have recently announced TalentCalling a shared talent community, enabled by a centralized online system, where participating institutions can draw from the community to access qualified professionals with select skills commonly needed by all universities. This unique community taps into the long history academic institutions have of joining together to leverage their combined buying power.
The TalentCalling community is initially populated with:
admissions personnel
administrative assistances
exam proctors
instructional designers
research assistants
teaching assistants
application readers
project managers
general managers
student success specialists
and other specialized roles
Each school has ready access through this shared direct sourcing program. Peer best practice sharing accelerates innovation while saving time and money. Getting and keeping talent can give your college or university the edge you need when more jobs are created through the Infrastructure Investment and Jobs Act. 
Ready to Get Started? 
You can learn more by downloading our whitepaper New Legislation is Turbocharging Higher Education Talent Demand. Or contact us and set up a time to discover how your college or university can benefit from TalentCalling.